When moving to Berlin or when planning a trip, you need to know how the public transportation system works. We take you by the hand today and give you a few tips to get to your destination fast. [Easter egg inside by our friends at getdoido.com]
Moving to Berlin can be as exciting as it can be confusing and when you're not used to how some things work, such as the public transportation system, simple tasks like going to get your Anmeldungbescheinigung or see your favorite flee market can become an adventure and not always a good one.
Here's a guide on how the public transportation system in Berlin works and everything else you need to know about it.
Firstly, understand this – There are two types of people in the world:
1) The ones who get off their seats when the train is arriving at the station and leave immediately once the train has stopped,
2) The ones who wait until the train has arrived and completely stopped to then get out of their seats and leave the train. Bottom line is:
Germans will appreciate if you're the type 1 kind of person.
Now that you have understood the mentality, it's time to figure out where you are on the map and where you'd like to go. Apart from the map you can find in all stations like hereunder, you may want to download the app Öffi. Just type your starting point and destination, it will sort out the best route for you in no time.
Public Transportation
All you need is one ticket to have access to all public transports, which includes S-Bahn, U-Bahn, buses, trams and ferries. The price of this ticket will depend on which zone you wanna use it and its period of validity. A one-way single ticket, for example, costs 2,70 Euro.
You also have more options like short distance ticket, a weekly, monthly annually and even a group ticket. The tickets can be purchased at multilingual ticket machines on the platforms of S- and U-Bahn stations. In buses, fares are paid to the bus driver, in trams at machines inside the trains.
For traveling with bicycles, or pets, make sure to pay the extra fare and get in the right wagons.
Don't forget to stamp your tickets on the yellow or red boxes at the platforms. In a case of inspection, if your ticket is not stamped you'll have to pay a fine.
Berlin's S-Bahn (Schnell-Bahn = Fast Train) has 15 lines and almost 170 train stations, so this is a very practical way to get around or to get out of the city in no time for a dip in the lake for example. On weekdays, the S-Bahn starts running around 4.30 a.m. and stops service at 1.30 a.m. Depending on the time of day the trains run in five-, ten- or 20-minute intervals. On weekends, S-Bahn trains run 24 hours, at night in 30-minute intervals.
There are 10 U-Bahn (Untergrund-Bahn = Underground Train) lines and with its 143 stations, this is also an easy way to get around. On weekdays, most U-Bahn lines run from 4 a.m. till 1 a.m.. In between, the bus night lines provide public transport. During the day, the U-Bahn travels in 5-minute intervals, at night in 10-minute intervals. On the weekend, the U-Bahn runs 24 hours, in the daytime mainly in ten-minute intervals, during the night in 15-minute intervals.
The buses are a good option depending on where you want to go, since they cover areas that aren't on the other services' itineraries. There are also some busses with have a double-deck, which offer a great view during your travel.
They night buses are marked with an N and operate all night replacing the most important U-Bahn day lines.
During the day the buses will stop at every bus stop, however after 8 p.m. you must tell the driver in which stop you'd like to get off.
The Tram lines extend the route network of the U-Bahn and more than 20 lines run through Berlin. Fun fact; tram lines can only be found in what was formerly East-Berlin.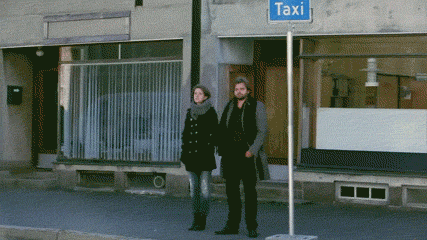 Although not very necessary, there are around 7500 yellow cabs in Berlin. You can order a taxi by hailing or by calling a taxi company. Here are some numbers to help you out:
44 33 22 Taxi Funk Berlin
26 10 26 Funk Taxi Berlin
26 30 00 Quality Taxi
21 01 01 Würfelfunk
21 02 02 City Funk
Carsharing
One other way to get around Berlin is with car sharing. With DriveNow you get to drive BWMs or Mini for as low as 0,30 Euro per minute. You can also look into car2go or Flinkster. Uber is also another viable option.
Travel Hack #1
If you're moving to Berlin, chances are you're going to get a lot of visits from your family and friends, so in order to help you out, here's a great tip: The Berlin Welcome Card. This card provides unlimited travel within the public transport network in Berlin for 48 hours, 72 hours or 5 days in Berlin. It also gives you up to 50% in discounts on more than 200 attractions and cultural highlights. For more information, go here.
Travel Hack #2
If all you need is to know where to go, that's also easy to figure out with this free guide to Berlin. Use it to plan your trip or download it on your phone and use it as you navigate through the city.
Travel Hack #3
If you're planning to travel and don't want to waste your precious time on it – check out doido, an online platform where you can find a great travel planner, who will help you to plan everything in Berlin or Munich. Simply delegate your tasks with doido :).

BONUS
Download a free interactive map here with all maps, guides and numbers you need to know, while traveling around Berlin.
All it costs is a like on SiB's Facebook page, where i often post fun facts, invites to secret-open airs and tips.
[sociallocker]
Content curated and provided by:
Phillipe Luna – Marketing Ninja from doido (www.getdoido.com). Place where you can delegate everything from shopping help to furniture assembly.