I think it's safe to say that we all know someone who suddenly realized that they were paying the German church tax, even though they never went to a service once in their time in Germany. For many foreigners that are not used to this system, the mistake is almost forgivable; they simply fill-out their Anmeldung form truthfully and ask no questions when being asked if they belong a certain religion.
For a lot of people, it's natural to say that even if they don't believe in it or go to service, they belong to that culture since they've been raised with it. However, by doing this, they are signing-up for an extra 8% or 9% on their income tax. That can represent hundreds of euros every year!
A simple mistake that can cost thousands of euros on the long-term
For many of us foreigners, something like paying a German church tax is unheard of. In Europe, only Austria, Denmark, Finland, Germany, Iceland, Italy, Sweden, some parts of Switzerland & Croatia are doing the same. This is why it may come as a schock when you finally realize what this "KS" (Kirchensteuer) line on your pay slip is!
If you are this situation (like i was once), i thought i'd make a little guide on how to stop paying the German church tax.
How to stop paying the German church tax
1- Find the right office & bring enough money with you
If you want to quit paying the church tax in Germany, you want to leave the Church, which translates to "Kirchenaustritt".
Depending on your region, you have to go to either your Standesamt or your Amtsgericht to do that. The fee also changes. Here is a little summary (hat tip to Kirchenaustritt.de):
You can also click on your region to access the right official portal.
2- Gather all the necessary documents and go to that office
It's pretty straightforward if you are not married in Germany; just bring a piece of ID and your Meldebescheinigung with you. If you are married; you will also need to take your Heiratsurkunde (Marriage certificate). The document you need from them is the Austrittsbescheinigung (Leaving certificate). Make sure to keep it with all your other important documents. You might need to show it to your Finanzamt at some point.
3- Rejoice and bath in your own money
If you have done everything correctly, you should stop paying the German church tax from the end of the month during which you declaration was registered. Your tax ID is handled electronically, so your Bürgeramt will communicate your decision to your Finanzamt automatically. It might take up to 2 months for that infamous "KS" tax line to disappear from your pay slip though.
It might take up to 2 months for that infamous "KS" tax line to disappear from your pay slip.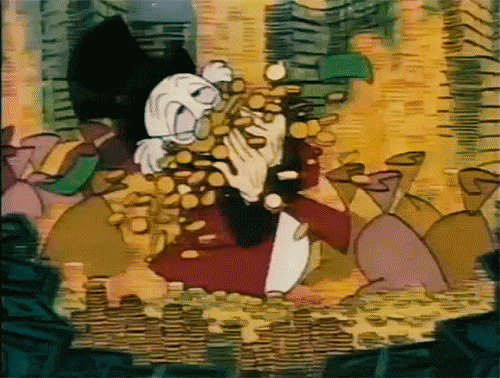 FAQ
Can't i get all that money back?
I'm afraid not. Your involuntary donation is gone forever.
Can i still go to church, temple? What do i give up by not paying the church tax in Germany?
If you want to go to service, you can still go. No one will ask you to show your tax card. However, this move might disqualify you for bigger events like baptisms & weddings. The rules aren't the same everywhere though.
Why is there this system anyway? And where does the money go?
This system was set-up during the Weimar Republic in 1919 in order to accommodate the pre-existing advantages the Church(es) already had acquired before-hand. It's even written in the constitution! Every year, around 10 billions euros are levied that way. The money goes to the up-keep of religious buildings, paying religious personnel (not priests, they are payed by the diocese directly) & administrative costs as well as funding social projects.
I have done all the steps above, but i'm still paying the tax. What then?
Try going to the Bürgeramt (the place where you registered your residency). And ask them to change your religion showing them the confirmation from the church.
Which churches are concerned by the Church tax in Germany?
The following:
Evangelische Kirche
Römisch-katholisch Kirche
Jüdische Gemeinde
Altkatholische Kirche
Freie Religionsgemeinschaft Alzey
Freireligiöse Gemeinden (Baden, Mainz, Offenbach, Pfalz)
Good luck and let me know if you need any details in the comments or simply share your experience. 🙂