6 months have passed. 8 months have passed. Close to a year has passed and you still haven't got round to it : kicking yourself in the butt and starting to learn German in Berlin.
After all, you have been so busy with fitting into the shoes of your new life : the new job, furnishing your new flat, the clubbing, and your week-ends spent visiting abandoned factories (or alternatively, spending your time exploring playground and securing a Kindergarten spot for your kids). You also managed just fine nodding and smiling at the check-out at Lidl. Also; why bother to learn German in Berlin when everyone speaks English with you?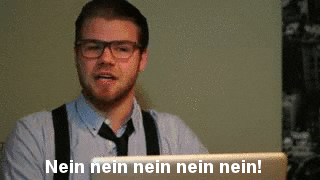 As you must have noticed by now, this sarcastic tone might sound pretty close to what you hear everyday in your head, so let me list the options for you to shut it down for good. As you might also know already from reading other pieces on SiB, i am a strong advocate for starting early to realize the full potential of your life in Berlin.
It's also about realizing the full potential of your life in Berlin
German classes is the #1 solution to learn German in Berlin:
Sometimes, a good old teacher-pupil situation is best to learn German in Berlin. Fortunately, there is a good range at hand since a lot of expats have been moving to the city the past few years. In almost all of them, you can sign-up for a free trial class to get a sense of your level & see for yourself if the teaching method suits you. Mind also that some schools will require from you to buy some specifics material like books to follow the course.
Volkshochschule
Intended as training centers for adults on all sorts of skills and topics ranging from health & culture to IT & politics, Volkshochschule are an offering provided (and subsidized) by the city. It stands for equality and access to quality education for all. It's a powerful ally in the languages department too. It offers the flexibility to choose the amount of hours for all languages levels. It is the cheapest option as well starting from 69€ for students. A drawback though: larger, fuller classes that might not cater to individual needs quite as well as private schools. Browse classes and register for a class near you via this link.
Goethe Institut
The grand institution is in charge of spreading the German culture in the world and offers German courses for all. It is very tailored and professional teaching service that comes at a cost : a little more than 1000€ for 4 intensive 25 h weeks. Might be a good idea to kickstart your efforts. They also have cheaper great online courses where you have live sessions with real teacher in between fun-oriented exercises to do on your own. A good solution if you aren't ready for a classroom. More info about this program here.
Local language schools
Numerous private schools are taking the more interactive road, with smaller groups focused on getting some practical sentences in. This is probably a good pick if you are shy or if you want to progress faster with a more driven approach. Prices differ a lot depending on the type of classes and across schools too. This is a selection:
Sprachsalon
Sprachsalon is the right place for everybody who wants to learn a language in a friendly and personal atmosphere with interesting people from different background. In keeping class sizes small, with between 5 and 10 students, everybody can be sure to get plenty of valuable attention from their teacher. The teachers are engaged, passionate, and qualified, always aiming to make their students thrive.
Sprachenatelier
Whether you are a beginner or at an advanced level, prefer to learn online (live!) or in person, have time during the day or only at night: the large variety of German courses offered at Sprachenatelier Berlin means we have a fitting course for you. All teachers at are qualified, experienced, and engaging native speakers, who use various methods to make class lively.
Speakeasy Berlin
Speakeasy Berlin, located in the vibrant district of Friedrichshain, offers high-quality German classes, both physically at their school and virtually online, as well as telc language certification exams. The school offers its students much more than just a language class by focusing on the speakeasy community, offering many additional services such as visa and university support, and inviting students to attend free monthly workshops and events. It's extremely easy to book their courses on their website using their unique course configurator and the variety of class intensities and class-times means you're sure to find something that suits your schedule.
Sprach Institut
Using advanced video conferencing technology, Sprachinstitut Berlin's new hybrid courses offer students the utmost safety and flexibility. As a student, you have the opportunity to decide whether you would like to come to school or participate online, the best of both worlds! Each classroom is fitted with a state of the art 360 degree camera, which makes you feel as though you are really in the classroom regardless of where in the world you may be! Located in Mitte, Sprachinstitut Berlin pride themselves on their small class sizes (maximum 8 students), experienced native teachers and modern teaching facilities, all at a fair price.
Expath
Expath is a Berlin language school founded and run by actual language teachers. The focus is on active, real-life conversations in small online classes as well as in our schools at Rosenthaler Platz and in Neukölln. We don't do tests or certificates – and helping our students in English when they're stuck once in a while is not a taboo at Expath.
DAS
DAS (Deutsche Akademie für Sprachen): Since the beginning, DAS Akademie focuses on making their students speak. They go by a "no desks – no stress" policy in their Mitte location. Teaching intensive courses and evening courses through-out the week, classes are kept small to keep things interactive and personal. Online courses are also an option.
deutSCHule
Since 2009, the deutSCHule has developed an innovative link between standards of academic learning, social engagement and community awareness in Berlin Neukölln. Your German courses will take place in an inclusive and diverse environment and you get the chance to get to know exciting people from the entire world while enjoying organic coffee and homemade vegan snacks in their in-house deutSCHule-Café.
You can read my own experience studying at deutSCHule in this post.
Alternative 1: One-to-one sessions with teachers
To learn German in Berlin in a group is not something for you? Group work might not simply be the right method for some people. For them, private sessions with a dedicated teacher is just the right thing to get you going in the beginning or sharpen those der-die-das rules. There are different ways to find a German teacher in Berlin like Facebook groups or inserts on Craigslist. You might also consider platforms like Italki who connect students with their teachers depending on levels, skill sets & focus area. Simply enter your preferences for schedules and pay your teacher when you meet them the first time. It's really a flexible solution to find the right German teacher in Berlin for your needs.
Alternative 2: Online classes with real humans
Your busy lifestyle might make it hard to find a suitable time slot to fit in language classes in Berlin. If you need more flexibility, you can always pick the online route. Services like Lingoda allow you to follow a certified curriculum thanks to real-time interactive classes in small groups. You can schedule classes anyway you want. Interface is pretty neat and the learning material attractive. All plans also include a private session with a teacher. If you aren't happy, you can cancel at any time or make use of the money-back guarantee. Trial classes are available too.
You can read about my experience learning German in this Lingoda review.
Alternative 3: Languages tandems in Berlin
I will grant you : learning German in Berlin is not easy. But sometimes, finding the right person to talk with can be a huge motivation. Also if you feel you are ready to practice on your own; this might a good option to meet cool people and auf deutsch bitte ! I find it's great to gather the self-confidence you need in the early days to dare speaking a language that looks very intimidating at first. With language tandems, you are both feeling awkwardly uncomfortable. No one is judging. The tricky bit is that it's like finding a sparring partner at Tennis: it's only fun if you are both on the same level. Finding a language tandem in Berlin is very efficient for some people who have learned the basics and would like to exercise their skills during a friendly conversation.
This might a good option to meet cool people and auf deutsch bitte !
There are a few ways to find the pearl :
I hear some turmoil in the back of the classroom : "What other alternatives do i have to taking a German class or language tandems in Berlin ?"
Alternative 4: Apps
For the less social or less available ones of us, it is always possible to use a smartphone or laptop to train and practice without the need of another human being. You could even learn German in Berlin subway, while you go to work.
The perk of apps is that you can really start at any level. So if you are a beginner, that might be a way to get ahead of the game before your first German course in Berlin. Self motivation is however key because there is no one to look over your shoulder. Thankfully, most of those apps have gamification aspects to it so you should be fine.
Find here a selection of the best quality apps to learn German, depending on your level & learning style.
Alternative 5: Volunteering
There is nothing better to get going than simply find yourself in a different environment, challenging your comfort zone. Volunteering for local causes is a great way to do good around you and practice your German skills in the real-world, solving real problems. You can find a guide on how to find volunteering opportunities in Berlin here.
Last tips to learn German in Berlin while not studying:
Try to fill your life with as much Deutsch as you can, it helps a lot to watch German TV or listen to German radio. Radioeins in Berlin invites a lot of international artists for interviews for examples. They often interview in English before translating to German for the local audience. It's great to know what the interviewer will say to practice!
You can also watch « Berlin Tag und Nacht » to catch on the local accents and expressions while not feeling guilty about watching reality TV. 😉
Whenever you can, read an article or two in the Morgenpost or TipBerlin laying on the table of your favorite cafe. It will be one article at first, but pretty soon you will go through the whole newspaper!
You can listen to the podcast "News in slow German" to immerse yourself in local news at a slow pace too.
And finally, have fun while your learn German in Berlin and don't forget to make mistakes! It's better to do some than not to talk at all. No one will mind if you do.
And anyway, your cute ** accent will help you get that **** at the bar there !
** : insert your country of origin here
**** : insert boy or girl here
And you ? Do you have any tips or particular ways to learn German in Berlin? Share in the comments!