You fought like a lion for this sweet flat around your favorite cafés and spätis. You managed to convince your landlord/flat mates that somehow, you will have the money to pay your rent on time. Victory is yours. You can be proud. As you jump around full of happiness, the echo of your empty flat/room makes you realize : "How will i ever find furniture in Berlin" ?! No bed, no desk, no chair, no lamp. It's a fresh start but where to begin?
I spent my first few days sleeping on my winter clothes so i know how pressing this is ! 🙂
Let's see how you can quickly find furniture in Berlin for your flat.
There are 2 broad options when looking for furniture in Berlin :
The "free or cheap but a good bit of effort" option
The "less cheap but probably more convenient" option
Free or cheap ways to find furniture in Berlin
When looking for furniture in Berlin, we are always looking for bargains or even free stuff that could "just do" until we have more time or money to manage something better. Sometimes, it is also simply because we don't want to invest too much when we plan to stay a few months or a year only. That's all very understandable and there are ways to furnish your flat in Berlin for little or no money.
Flea markets are a very valuable resource to consider if you are on a tight budget. It may not be the latest trend of furniture but it is often relatively good quality. When you think about it, if they lasted that long to end up in a flea-market, there must be a reason. 😉
I made an extensive post about flea markets in Berlin there so i won't list any here. Just make sure you go to the ones that don't sell overpriced so-called "vintage" pieces. It might end-up being a lot more expensive than what you expected.
A drawback is naturally that you have to organize the transportation yourself. I guess it's fine for a chair or two but not the best for that heavy table. It's not common, but some sellers do offer to transport it for an additional fee.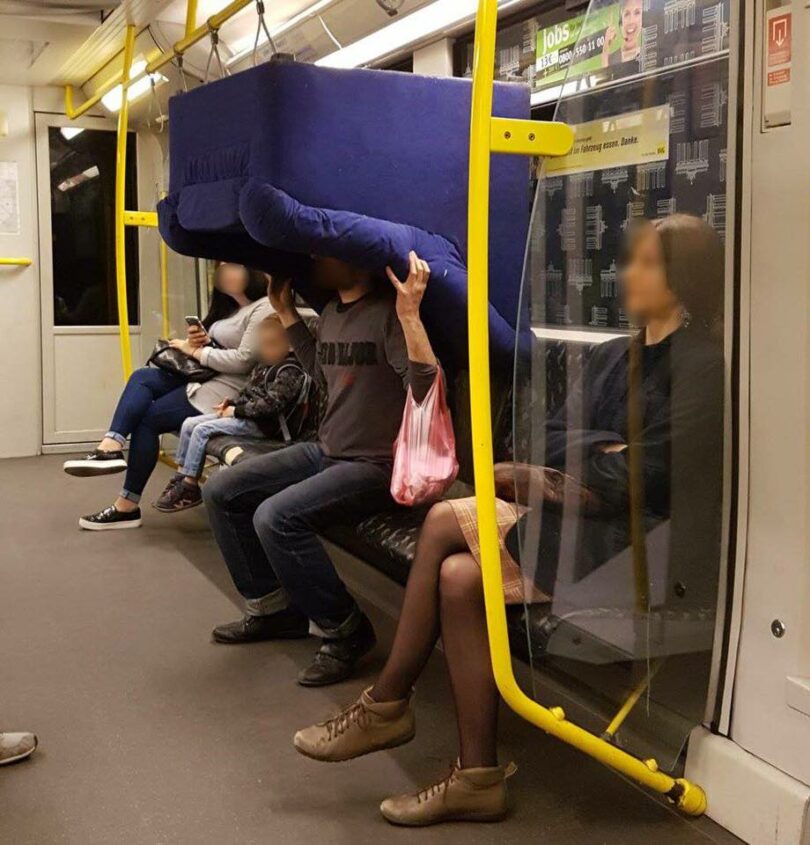 I recommend flea markets for smaller household items such as lamps, or chairs, but not for big things like bed or cupboards.
Classifieds such as Craigslist or Ebay Kleinanzeigen also offer a wealth of choice to find furniture in Berlin ranging from old fashioned gems to second hand Ikea-like furniture. In my experience, sellers are often more willing to negotiate the price because they want to get rid of it. So as long as you have the means to transport the things, you have a good chance to make a good deal. It's also handy because it's possible to narrow down the search to your own district if you have a good friend willing to carry a sofa down a few streets. 🙂
Also think about Facebook groups to find furniture in Berlin like the very popular "Free Your Stuff Berlin" group or even "Sell Your Stuff Berlin". If you are fast to respond, you can get nice things. On german-speaking pages, you can find "Zu Verschenken in Berlin & Brandenburg" & "Möbel verkaufen, tauschen, verschenken" which work the same way.
The company in charge of getting rid of abandoned furniture in the street (BSR – ) has also open its own page so people give their old furniture instead of dumping them in the street : Verschenkmarkt (BSR). Alternatively, you can also visit the aptly named Noch Mall in Reinickendorf. It's a location where you can buy second-hand stuff, at a good price. This sort of centers is very common in France (where I come from). I must say I was very surprised that no option like this exists in Germany.
I also found this website as well, listing second-hand furniture that people are giving away.
Where to buy furniture in Berlin : the convenient but still affordable options
Now if you have more money than time on your hands, it's possible to make your life a lot easier without spending a fortune.
There a few a specialized store where you can buy furniture in Berlin. The most obvious one is IKEA.
Yes, Ikea
IKEA was a top choice for me at the beginning because :
It's affordable, fashionable and ok quality
I know it from home so it's a lot easier to approach (I think it doesn't matter where you come from, you know what IKEA has to offer.)
Tons of choice which makes it a perfect one-stop-shop, down to cutlery & bathroom towels.
Make your choice offline in store, order online and get delivery to your door.
What i did is was to create an account on the website, saved what interested me in my wishlist and then go in store to confirm my choice, lifting the pressure of making decisions right-way. I then ordered everything online and didn't have to carry my mattress/bed/table/etc up the stairs. (SUCCESS!). The whole thing took me 2 days which i really liked. (Ok, mounting took me a good day as well 😉 )
There a 4 IKEA stores in Berlin, Tempelhof, Lichtenberg, Spandau & Wilmesdorf.
Alternatives to Ikea
Other places to buy furniture in Berlin are Pocco Domäne & Möbel Hübne. I personally was not convinced by those mainly because all they had was quite ugly, lacked personality and they didn't have all the smalls items. But go have a look for yourself, it's a matter of taste. They also have delivery options.
You might also want to check a Danish chain called Dänisches Bettenlager which has shops all around Berlin. Their catalogue is certainly a bit smaller but it's slightly better quality than IKEA and it's definitely more human-sized and less crowded there. The style has also more flair to it somehow. If you are buying bulky things there, it's also a possibility to create a wishlist online, see it offline and order everything from home for delivery.
I sometimes later turned to an online only shop called Home24 which has also a broad selection of everything if you like to stand out of the crowd a little bit. The service & quality are strong points with them. Customer service is really nice & if you are not happy with your purchase, it's free to send it back !
What about buying a mattress in Berlin
You have often all that the furniture you need and just want to change that old mattress of yours. Maybe it was in your room before you even't got it!
If you need a new one, you have a few options:
How to self-move your furniture around Berlin
If you are not keen on delivery and you would like to move yourself your newly acquired furniture in Berlin, there are solutions.
Driving yourself
First you might consider using DriveNow which can easily let you rent a car for short-term. This service is really useful in the everyday life when you want a quick ride so i subscribed to it anyway, but you can stuff quite a lot in the bigger cars they offer. And since it's a "to-go" service, you only pay for what you use and no need to fill the tank afterwards.
Another option are rental companies like Sixt, which has short-term rental offers with trucks available from 19€ for 5 hours. Miles also has Transporters is their car sharing fleet.
If you need something for a longer time, I can recommend Robben & Wientjes. It's a company renting small trucks you can drive with a standard driving license. They speak English, accept foreign driving licenses, have great rates and have central locations in the city. I'm sure you have seen their truck at least once around Berlin.
Man with a van
You can turn to this platform connecting in people in need with people with a van: Shiply. It has reviews of each provider. Otherwise, you have alternatives:

Make sure to read all the review too 🙂
Hopefully, with this advice, no need to sleep on that old mattress you found in the street the other day. 😉
Good luck.